<< Go back to FAQ page.
What can I expect during a Mobile Tented Safari / Wilderness Trail?
Sleeping in the wild on a mobile safari, with nothing but a piece of canvas between you and Africa's wildlife, may not be for everyone, but it makes for a fully immersive experience.
For an authentic safari, it is difficult to beat a mobile – the original form of this quintessentially African adventure. This is how the old pioneers used to go on safari, back in the days before there were permanent lodges with flush toilets and wifi conncetions in the bush!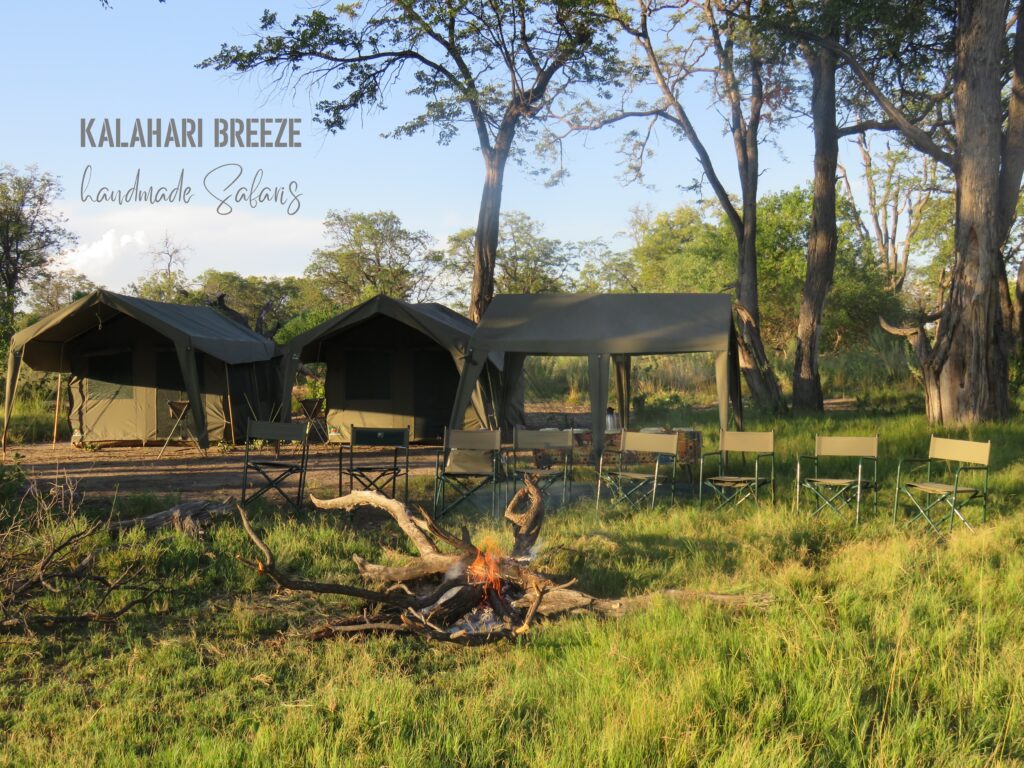 Despite the changing ideals of the African safari it is still possible to experience a wild, proper, back-to-earth safari in Botswana.
The African safari has undergone great changes with the ideal geared towards luxury lodges with hotel-type service. When the word safari is used today the minds of most immediately think of the permanent high-end camps & lodges, which developed over time into luxurious resorts with lodge rooms being private chalets with plunge-pools, room service, private butlers and a price tag that makes you look twice. In some lodges, it feels like you are being separated from the wilderness, almost akin to being cocooned in a plush boutique hotel with National Geographic on a jumbo screen as LonelyPlanet described it.
Very few people actually think of the wilderness and the open sky. Thankfully though there is also the option of going on a mobile safari, where you can experience true wilderness and some of the soul of the bush.
If you are the adventurous, nature-loving type and you are willing to roughen it up a little, Botswana has a unique and authentic safari experience lined up for you. Without any fences or boundaries you can camp in relative comfort deep in the untouched wilderness far away from civilisation.
You cannot get any closer to the wildlife than this.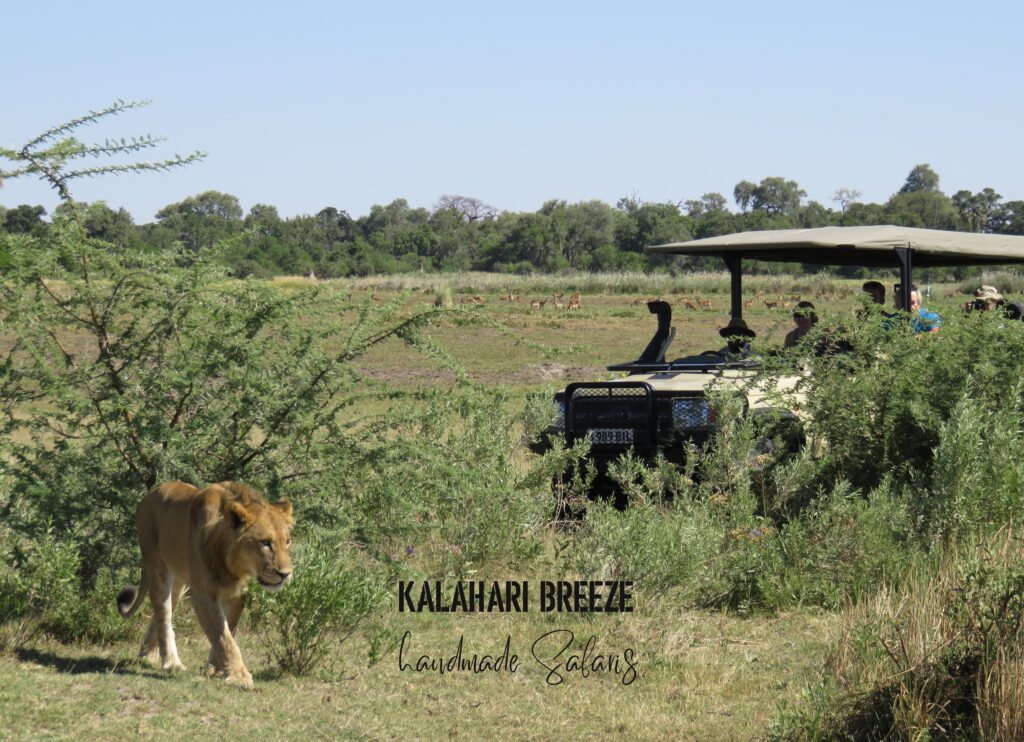 What is a Mobile Tented Safari?
The concept of a mobile tented safari is very simple and can be described as "wildcamping deep inside the bush with no fences or other boundaries".
Unlike a permanent camp/lodge, a mobile camp is not permanent. The camp is set up in a secluded area of the park just for your group. When you move after a few nights to the next destination, the whole camp moves with you, that means the whole camp is taken down and set up again in that new location.
Because of the temporary nature of a mobile tented safari camp, they will not be as luxurious as a permanent lodge but what they do offer is a very 'close to nature' bush experience.
Not to be confused with an overland tour (that goes in a big truck on tarred roads around the parks from place to place and from country to country) , a mobile safari is usually a small group and a guide travelling in a 4×4 gameviewing vehicle inside the wilderness areas of a particular country.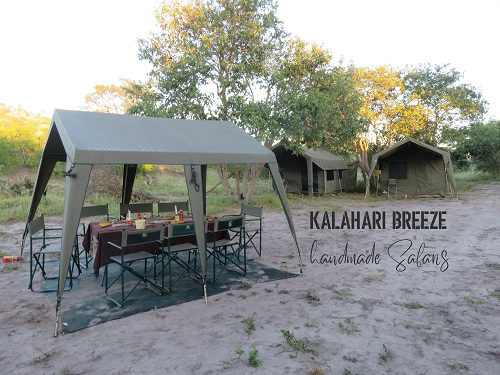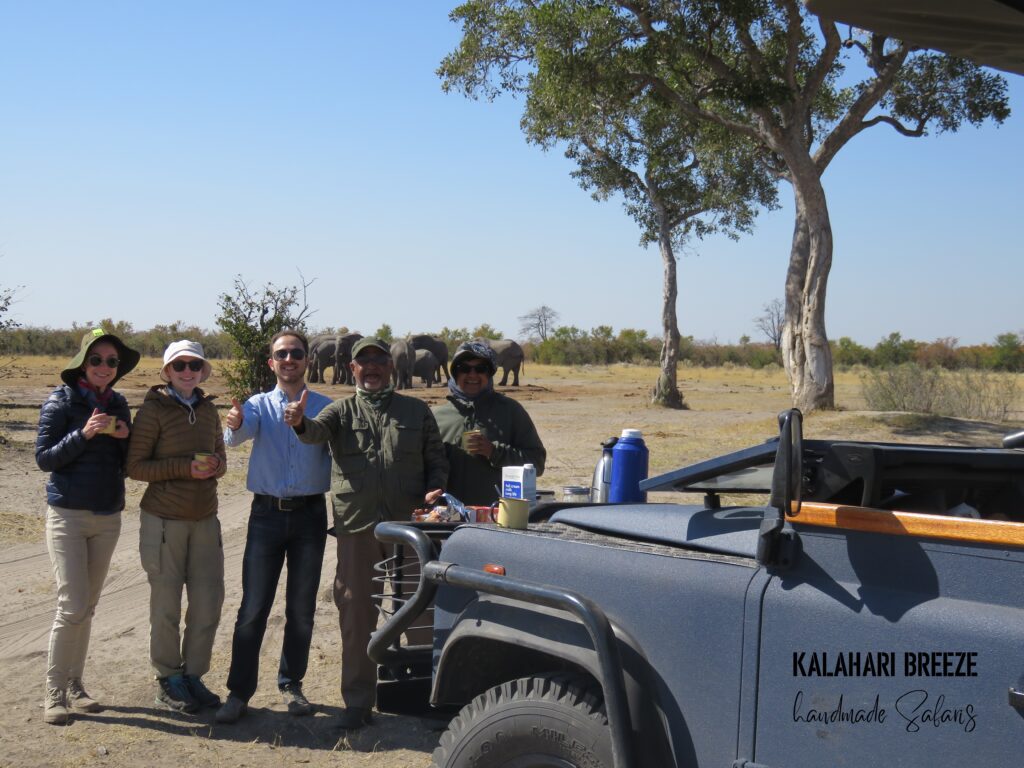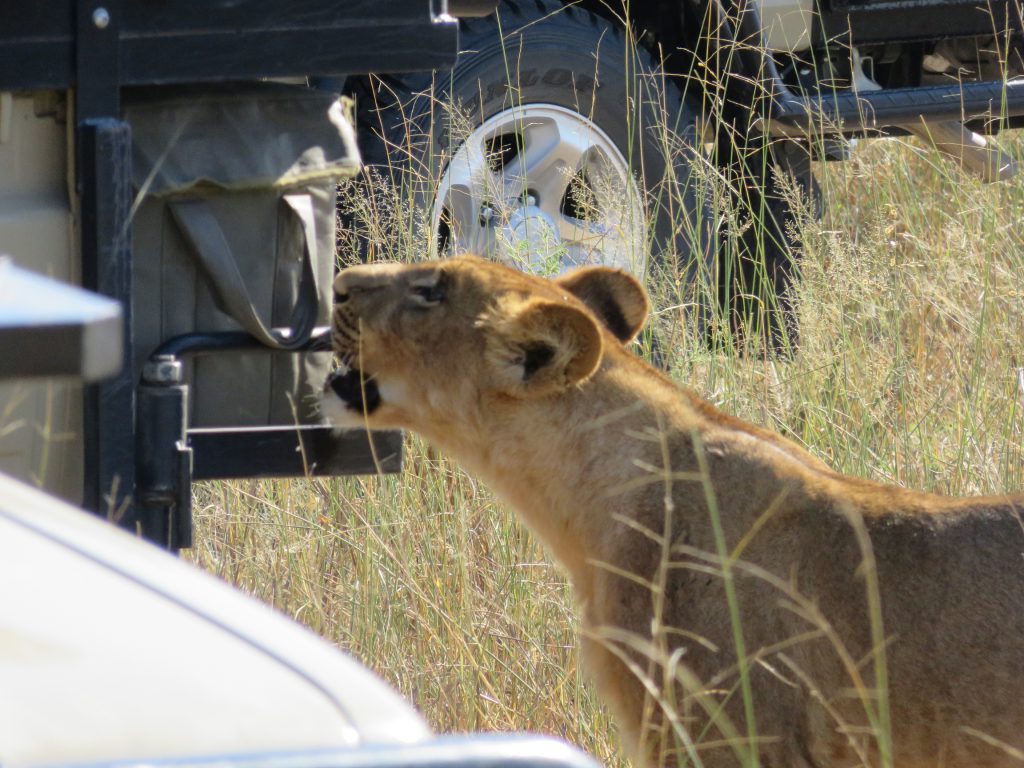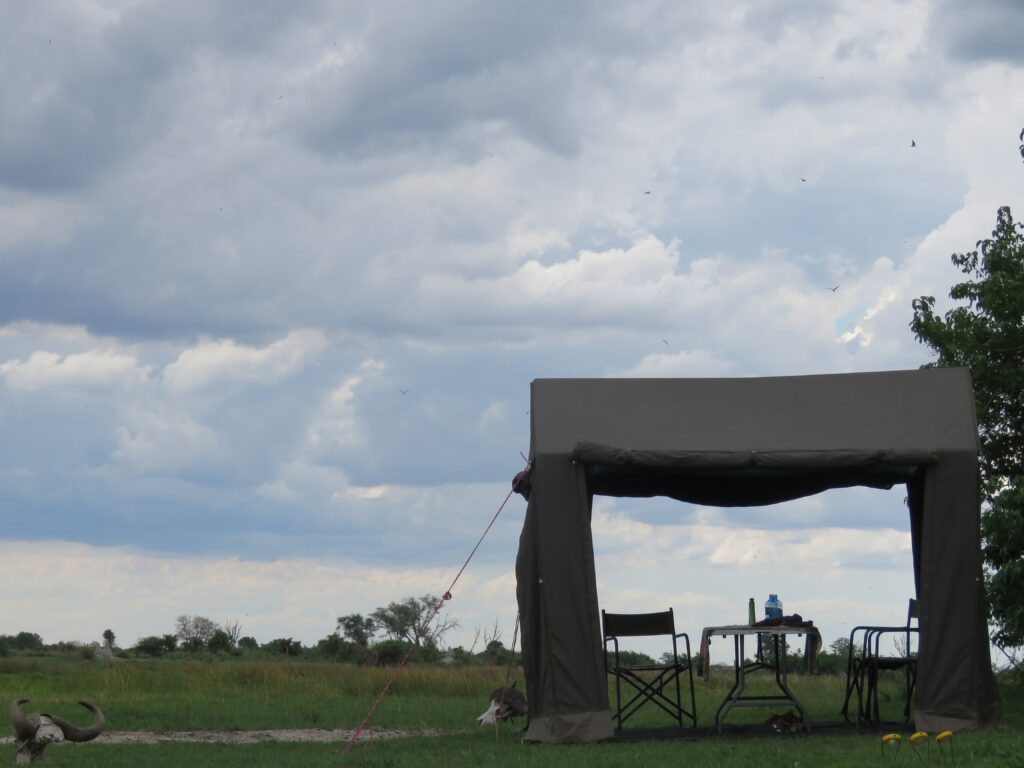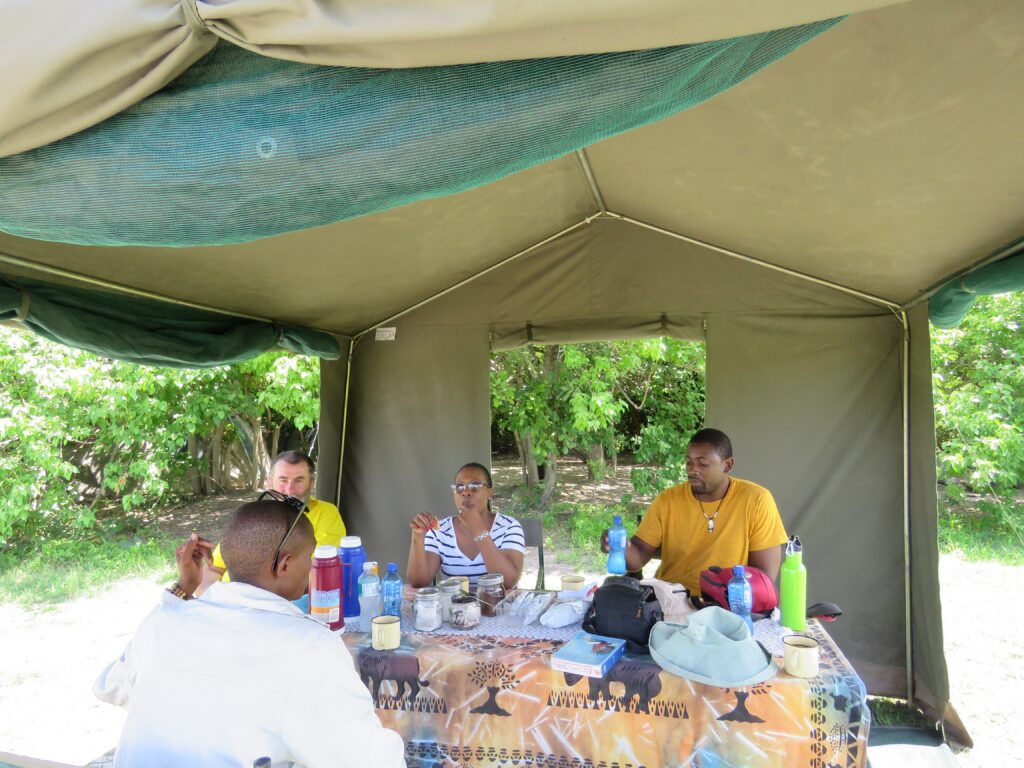 How am I accomodated during a Mobile Safari?
Accomodation during wildcamping safaris consist of canvas tents.
Kalahari Breeze Safaris offers 2 different types of tents both in a basic camp set up.
Our Standard Tent (sleeps 2 people)
The standard tent on our wildcamping safaris is a dome tent, that meassures 2.5m x 2.5m. The dome tent can accomodate a maximum of two people and comes standard with stretcher beds (single beds), sheets, duvet blankets and pillows.
The tents are modified to include a separate attached ensuite bathroom space at the rear of the tent which is accessible from within the tent.
Each bush bathroom has a sink, a longdrop toilet and a warm water buket shower with the option of pressure regulation.
The bathroom has no running water. Hot and cold water is supplied by our camp assistants.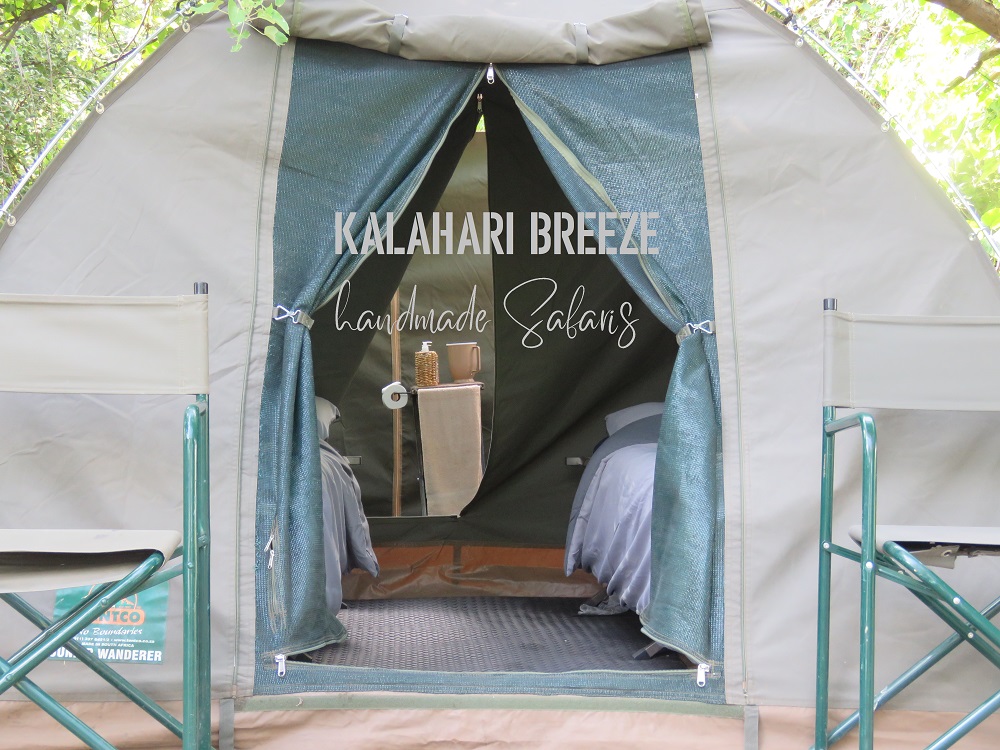 The dome tent is the standard tent on ALL our wildcamping tours. If not discussed during the booking process and specified otherwise in the invoice and booking form, you will be accomodated in our dome tents.
Meru Tents / Family Tents
On request, we offer bigger tents (Meru Tents). They are especially popular with families that do not want to split up during night.
Our meru tents are 6m x 3.5m in size plus a veranda (in front) and plus a bathroom (in the back).
The bathroom set up and the beds are the same as in the standard tent.
Each tent can sleep up to 4 people comfortably. If your family is larger than 4 people, we can join 2 meru tents to make it 1 tent that is 12m long and has two bedrooms.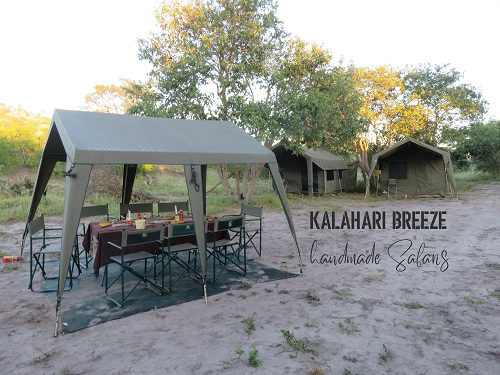 In which parks does Kalahari Breeze offer Mobile Safaris ?
This travel style of secluded wildcamping in remote areas is only available in Botswana.
Kalahari Breeze Safaris offers mobile tented safaris in all Botswana National Parks and Concessions.

Popular Destinations for Mobile Safaris are:
Inner Okavango Delta – delta watersystem
Moremi Game Reserve – bush seasonally with lagoons
– south: Xinii Lagoon, Second Bridge, etc.
– northwest: Xakanaxa, Third Bridge, Mboma Island, Bodumatau, etc.
Khwai Concession (North-East Moremi) – Mopane Forest
Mababe Depression
Central Chobe e.g. Savute, ZweiZwei, Nogatshaa – Savannah
Ihaha (Chobe North) – Flood Plains / Riverfront
Central Kalahari Game Reserve – Desert
Makgadikgadi National Park (North) – Boteti River with bush
Makgadikgadi Pans Reserve (Central + South) – open Salt Pans
– Ntwe Twe Pan (Central): prime area for Meerkats
– Sua Pan (South): Kubu Island
Nxai Pan National Park – Salt Pan with thin vegetation + Baines Baobabs
The duration and route of our mobile Safaris is flexible and depends on the time that you have and the number of destinations that you want to visit.
Our post with Top 6 Tips how to plan the perfect Safari helps you to find out what route best suits you personally.
Our post about How to plan and book your Safari with us informs you about the process of how we plan and work with you to find the ideal itinerary for you.
We are here to help you with with advise and ideas. Let us make this a safari of a lifetime. Write us so that we can start planning your journey with you.
Although most of our tours are tailormade, we pubished a few sample itineraries to give you first ideas of what is possible and what most of our clients enquire about.
We label all of our Mobile Safais Wilderness or Desert Trails and our Best of Botswana-itineraries partially include Wilderness Trails, too.

What campsites does Kalahari Breeze use for their mobile safaris?
Each campsite is simply a designated, secluded area of bush with neither facilities nor fences. Before your arrival and after your departure, there is no trace that anyone has stayed there, and the wildlife is free to wander through camp at any time.
Because of the remoteness of the northern wilderness of Botswana there is the genuine feeling of been in Africa as it was 100 years ago. No other sounds but the wilderness will be heard from the camp as the private campsites are situated far apart from each other. This is one of the prime attractions of a Botswana mobile safari.
Only selected tour operators are able to book and camp at these secluded wild camping spots.
There are two organisations controlling the wildcampsites and selecting the operators that are experienced enough and ethically and conservationally operating and therefore are allowed to operate wildcamping safaris.
– Botswana Guides Association (BOGA)
– Hospitality and Tourism Association of Botswana (HATAB)
We at Kalahari Breeze Safaris pride ourselves with being selected by and affiliated to BOTH of these campsite providers. For our guests that is a big advantage as we can book sites from both pools and therefore can select the best sites in each destination for our customers.
To get more details about the location of the "campsites", please follow below links:
BOGA-Campsites
HATAB-Campsites

Do I have to help with camp duties?
Depending on the budget and the policy of the tour operator that you book with, there may be a full camp staff to do all the cooking and setting up camp for you or you may be expected to help with some of these tasks.
At Kalahari Breeze Safaris ALL mobile safaris are fully-catered and NON-participatory.
You do NOT have to help with ANY camp duties.
When we started operating wildcamping tours, we offered participatory tours to reduce costs and allow customers to book the tours on a lower rate.
However, we quickly realised that the camp duties interfere with the safari experience. Camp chores such as cooking, cleaning up and setting up /breaking down camp are usually done in the morning and evening, the prime times for gameviewing as this is when the animals are the most active.
How disappointing would it be if you have to leave a kill sighting because you have to be at the campsite early enough to set up camp. Or the rest of the group saw a wilddogs hunting on the evening gamedrive when you had kitchen duty and remained in camp.
We at Kalahari Breeze are all about maximising on your safari experience and making this a journey you will never forget. So we decided to run all our tours non-participatory so that you can fully focus on the safari experience and the sightings while our dedicated team takes care of your accomodation and catering.
What do I eat during a mobile Safari?
All meals during your safari are included. We serve breakfast, lunch and dinner and on days when you move between campsites the chef prepares packed lunch for you.
All meals are freshly prepared over the campfire.
We cater for most dietary requirements/restrictions such as vegetarian, glutenfree, lactosefree.
If you have specific dietary requirements, please enquire/inform us at the time of booking whether we are able to cater for this specific diet in the bush.
In our tour price includeed is: water, softdrinks, fruit juice, tea & coffee.
Alcoholic beverages can be PRE-booked on surcharge.
Since we will be in remote areas, logistics is a challenge and we cannot resupply easily. That is why it is crucial that you inform us about your dietary requirements in advance and pre-book your alcohol if you wish to have a cold beer in the evening.
What activities can I do during Mobile Safaris?
There are two types of Mobile Safaris: Landbased and Waterbased
Landbased Mobile Safaris are operated in all dryland areas of Botswana i.e. most parks (except the Inner Delta). Activities are gamedrives in an opensided safari vehicle.
In some areas you might be able to book some additional activities (on request) e.g. a boat cruise in Moremi, a Mokoro excursion in Khwai or a walk over Kubu Island.
Waterbased Mobile Safaris are usually operated in the Inner Okavango Delta. The most popular one is our Wilderness Trail in the traditional gondola called Mokoro.
The polers of the local community trust, who are born in the Okavango Delta, take us into the water channel system. There is going to be a Mokoro for you followed by a long trail of Mekoro with staff members and all the equiptment and supplies. Our team sets up camp for you on an island or by the riverside of a channel, from where you will start the excursions in the next days. Activities are mokoro excursions and walking safaris on the Island.
It is also possible to do a mobile safari by motorboat. This is a bit more pricy but it can take you deeper into the delta to the area around Chief`s Island. The motorboat-mobile-safaris are highly seasonal and depend on waterlevels.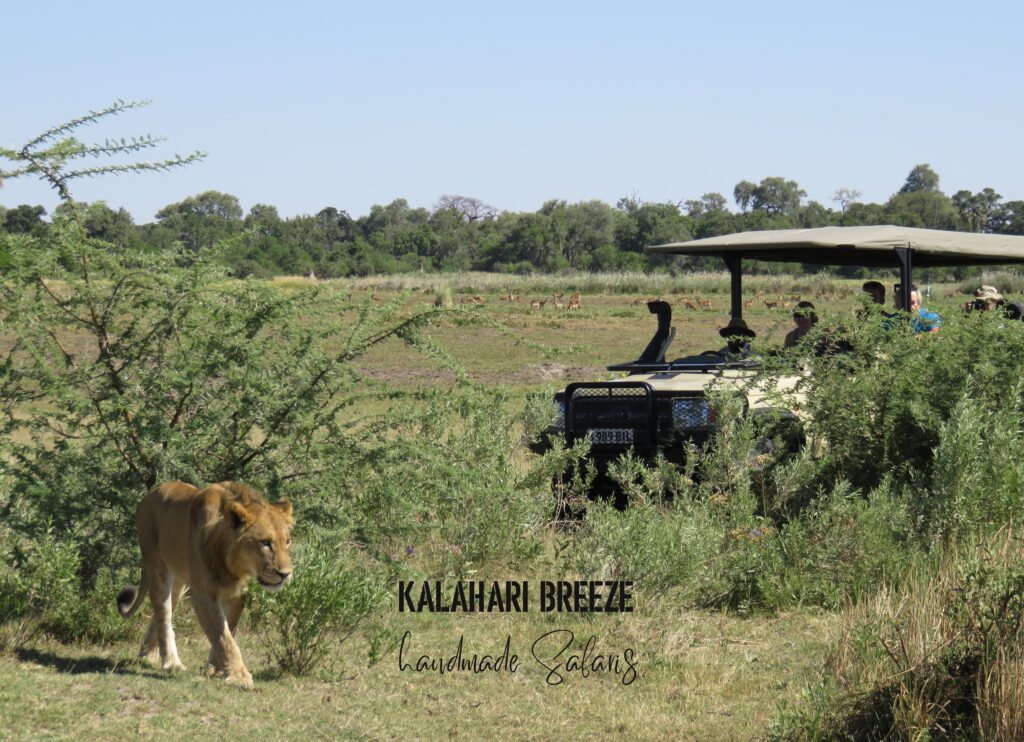 What kind of vehicle is used for the gamedrives?
During our mobile safaris we use open-sided gameviewing vehicles.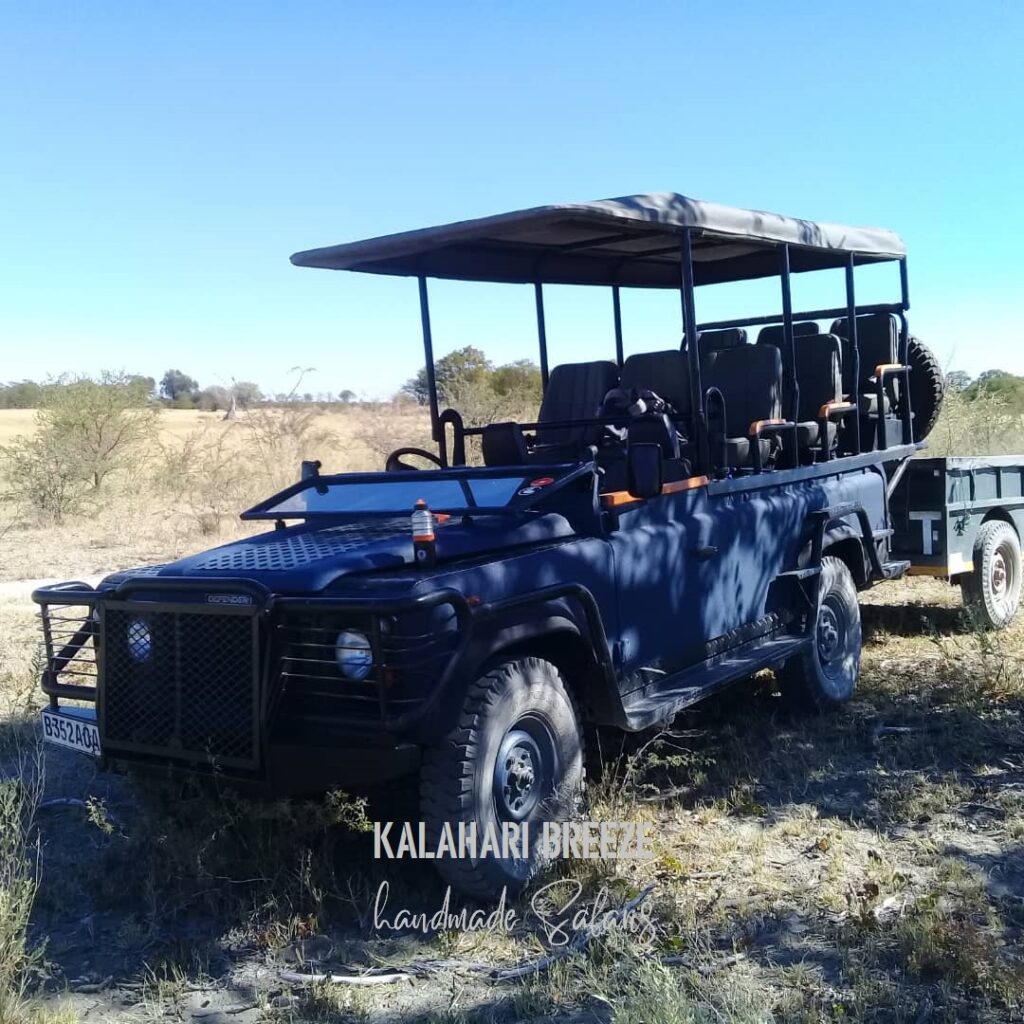 The gameviewing vehicles are Landrover TDI and Toyota Landcruiser cars that have been modified/ converted to carry passengers and to withstand the rough terrain that we are travelling in.
What transport is used between destinations?
During mobiles safaris you will transfer to each campsite by vehicle rather then flying between camps. Flights can be arranged in some destinations on request.

With mobile safaris being operated in the remote areas of the parks, the spots, where we set up the wilderness camps, are difficult to access and often only strong 4×4 vehicles can get to our camping destinations.
That said it is not a surprise to hear that the majority of the transfers is done offroad on sandtracks. Sometimes we do not even leave the bush when moving from one park to the other.
With this in mind you will understand that we cannot offer you comfortable transfers in airconditioned minivans inbetween destinations.
All transfers during mobile safaris are done in the gameviewing vehicle. Moving from campsite to campsite is an adventure on its own: The long offroad drive is bumpy, dusty, often tiring and in the rough terraine minor breakdowns are a normal occurance that is part of the adventure and will be handled professionally by the guide and the rest of our team. But besides all the hassle the long transfer drive is also very rewarding when you arrive in your next destination deep inside the bush with the animals in close proximity in their natural habitat. The bush will thank you for the inconvenience that you accepted with unforgettable sightings on the gamedrive the next morning or maybe already during night in camp?!
An advantage of the transfer drives is that you really get to see what the bush is about and you are not just flewn from place to place to see the immediate area around the camp only. On a mobile safari you cover distances and you see how the landscape changes.
As said before a mobile tented safari is not for everybody but if you are the adventurous type and you are willing to roughen it up a little, it is the most authentic safari option and a true wilderness experience.
Do I share the vehicle with other People?
We do offer private tours as well as group joining safaris.
A private mobile tented safari offers the most flexibility and a highly exclusive and intimate safari experience. You will have your own guide and vehicle just for your group and usually it will only be your group staying at each campsite. Subject to availability, you can choose exactly which dates you want to go, where you want to go and for how long. Prices vary depending on group size.
A group mobile tented safari is less exclusive but offers fantastic value for money. For travellers who do not mind company this is definitely an option worth looking at.
On Kalahari Breeze tours, where we join travelers together that do not know each others, we offer small groups of max 7 people so that everybody has a "windo seat".
We have two kinds of group tours. Depending on availability we can tailormake an itinerary with you and once you booked we start looking for other travelers to join your tour; this gives you the same planning flexibility as when planning a private safari. The other option is to join an already existing tour on a lower rate. The sheduled tours will depart on fixed dates and will have a fixed itinerary so you need to fit in with this.
Should a mobile tented safari be something you are interested in, then please do consult with us what the options and budgets are and we will be happy to try and find the most suitable tour for you.
Depending on the budget and duration of your tour, we might decide to travel with a gameviewer only, when you are up to 4 travellers only. Then there is no separate vehicle to carry the equipment and we travel with a trailer and the cook will travel in the gameviewer with you; sitting in front with the guide.
What does a typical day on a mobile safari look like?
We differentiate between camp days and moving days.
Moving days are the days on that you and the camp move to a new campsite.
Camp days are the days on that you remain in the same campsite i.e. you spend the night at the same campsite as the night before.
An example of a typical camp day:
05:45am wake up call
06:00am Coffee & Tea and full breakfast
06:30am morning gamedrive
10:00-11:00am return to camp, freshen up e.g. shower
01:00pm light lunch
03:00-06:00pm afternoon/evening gamedrive
07:00pm dinner
afterwards you can sit around the campfire as long as you wish
An example of a typical moving day:
05:45am wake up call
06:00am packing (pack your bags and put them next to the car)
06:30am Coffee & Tea and light breakfast
07:30am leave the campsite and start the transfer drive to the next campsite, if you see something on the way you stop for pictures
12:00am-01:00pm stop for a picknick lunch at the gate or in the bush
01:00-02:00pm continue the transfer drive, maybe stop for sightings along the way and upon arrival in the destination, maybe do a first excursion in the area before heading to the campsite
06:00pm arrive in the new campsite and freshen up e.g. shower
07:00pm dinner
afterwards you can sit around the campfire as long as you wish
Please note that these timelines are examples only.
They are to be understood as a guidelines giving you a general idea of how a day during a mobile safari is structured.
They cannot be understood as a fixed itinerary that you can plan with or demand for nor do we offer refunds if you experience a different timeshedule during your safari with us.
The timeline during a mobile safari is flexible on a daily basis and depends on the season, sightings and what you discuss with the guide and team while in the bush. The gamedrives can be shorter or longer depending on your wish and the situation. Neither do we pull you away from an exciting sighting to go to camp for lunch at a specific time nor do we make you leave camp and go on a gamedrive if you are tired or when the sun is still burning and you prefer to wait for it too cool down. The beauty of a mobile tented safari is that we are in the bush 24hrs a day so that we are flexible (in the limits of the park regulations).
Do I have to bring any camping equipment?
No, Kalahari Breeze supplies all necessary camping equipment.
You only have to bring a torch/flash light and items of personal nature.
For advise on what to bring, please see our packing list suggestions.

Do I have WiFi and phone network during a mobile safari?
No. Being in the wild in remote areas we usually are out of reach of cellphone and therefore wifi coverage.
There might be a few moments when we receive signal but for most of the time we are out of reach.

Our Kalahari Breeze team has ways of getting in touch with the office in town while being in the bush but those are reserved for emergencies only and not for private use of our customers.
Can I charge batteries?
We do supply a mobile charging point for our multinight mobile safaris.
Since we are recharging from (car)batteries, the capacity is limited and reserved for cameras.
Thank you for understanding that we won`t be able to charge electronic gameing devices and other devices that are not safari related.
Our sockets are Type Mand look like this:
Please travel with a travel adapter. Often we can also assist with USB charging and with type F sockets but we only guarantee type M charging facilties. So if you come prepared to charge from a type M socket, you are on the safe side.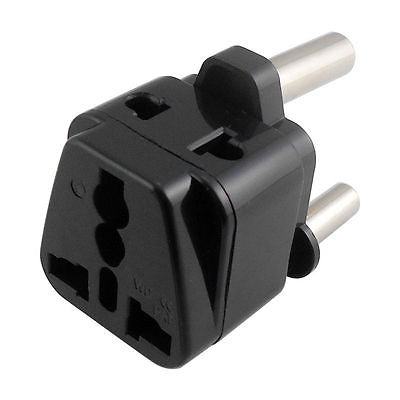 How safe is it to camp in the wild without fences?
A mobile safari is an adventure holiday and you will encounter wild animals in their natural habitat with no fences or other boundaries between you and the animals at some times.
We will travel through rough terrain and minor breakdowns such as getting stuck in the mud or having a tyre puncture are normal occurences and part of the safari adventure.
Nevertheless, you can feel safe at all times as you are with a well-trained and experienced team and as long as you follow their advice they will be able to keep you as safe as it is possible in the wild.
This post tells you about some of the measures that we take to make your mobile safari as safe as possible:
Our staff is  highly-trained and experienced
Professionally trained local guides with extensive bush knowledge and experience at your service throughout your safari experiences.
Camp auxiliary staff with extensive bush knowledge and experience at your service.
Back Up / Office staff that is on stand by to assist you in case the team that is in the bush with you needs extra supplies/tools to solve a situation.
Our guides are professionally trained by Botswana wildlife institute and possess guide certificates. It is a long multiyear process in steps from assistant guide via guide in training until a guide can call himself professional guide and is allowed to guide a tour alone. We also choose our guides in relation to the experience they possess.
In addition our guides know basic first aid techniques.
Security Briefing before each mobile safari
Detailed safety briefings are conducted before the departure of each safari excursion, with clients also provided with written safety instruction pamphlets available in all our vehicles.
Our post about Do`s and Don`ts in the Bush, provides you with advice on how to behave in the wild.

We advise our valuable clients to listen to and follow the guides instructions at all times during the safari.
Safety measures in the safari vehicle
The vehicles have a frame of metal rails which provide a barrier between wild animals and clients sitting in the vehicle. However, the sides are open and we strongly advise all clients to remain seated in the vehicle during wildlife interactions to avoid the animals identifying  you as an individual and not part of the vehicle as a whole.
A standard medical first aid kit is present in all vehicles and another with camp auxiliary staff in case of medical emergencies.
A heavy duty high lift jack, a shovel and a air compressor  tyre pump as well as a basic tool kit are on each vehicle for the case of breakdowns.
Each of our vehicles is equipped with a 2way communication radio system that allows the guide to communicate with the office base station, the camp assistants in camp and also other nearby tented lodges and guides.
We are currently in the process of equipping our fleet with a satellite tracker system that allows us to monitor and track the location of each individual vehicle during a safari. In cases of vehicle breakdowns, we are able to see in realtime that a vehicle has not moved for a specified amount of time. This in turn allows us to send replacement vehicles and or assistance team without further delays.
Safety in Camp
Campsite setup is standard to provide maximum security for our clients
Animal encounters are frequent and unavoidable during a safari trip
Clients are advised not to wander around by themselves and to avoid leaving their tents at night without the presence of a guide or staff member.
Our tents have en-suite bathroom and toilets so that our clients do not have to leave the protection and safety of their tents should they wish to answer the call of nature at night.
A standard medical first aid kit is present in all vehicles and another with camp auxiliary staff in case of medical emergencies.
Campsites are situated in untouched wildlife areas, with no ablution facilities, no fences or boundaries to keep wildlife out.
Some hotels and lodges are situated in wildlife areas, in such places we urge clients to respect the boundaries and fences that are there for their own protection.
Medical Screening/Emergencies
We strongly urge all clients to disclose any preexisting medical conditions that may cause concern during a safari trip.
Guides and camp staff know  basic first aid response.
Kalahari Breeze is associated to Okavango Air Rescue. For serious medical emergencies we have the option to airlift clients via helicopter medivac to the nearest medical facility for immediate medical assistance. For more information, please read our post about our helicopter  emergency evacuation.
We require that all our clients have insurance cover (such as travel & health insurance).
Kalahari Breeze purchased the needed company insurances from SATIB Insurance company.
Do I need insurance?
Yes, although we do not check if you have sufficient insurance cover, we require that all our travelers have insurances such as but not limited to health and travel insurance. The organisation of the insurance is in the responsibility of the traveler and by signing our booking form you indeminfy us from all liability and confirm that you have sufficient insurance cover.
Can I tip the guide and camp staff after a memorable Safari?
Tipping is always voluntary and should depend on the quality of service received. It's never compulsory, but we'd encourage visitors to tip to appreciate good service.
For more advise on how, who and how much to tip, please see our blog post.

<< Go back to FAQ page.